Universe Marbles (UM) are premium resources that can be purchased using kreds, a currency exclusive to Kongregate. They can be used to buy premium upgrades in the shop, in the Experiment Laboratory or even joining the Tournaments.
You can also collect universe marbles from the Treasure Chests, Daily Quests, and Tournaments.
Strategy
[
]
The daily quest is by far the easiest and most convenient way to get free Universe Marbles. Daily Quests are calculated proportional to your followers: the more followers you have, the harder the Daily Quests are. If you're lucky enough to get heroes from Treasure Chests, you can easily overcome Daily Quest #5, from which you can obtain 10 UM. Don't be afraid if you're not able to complete every next 5 Daily Quests because you have a lot of time to improve your army. Daily Quests resets every 12 hours, which means you can get 20 UM/day.
Tournaments are important because it's the only place to obtain Prana Gems—resources used in upgrading Heroes. Investing in hero levels can help you beat the higher levels of the Daily Quest. This also means more prizes, more UM, including Key! You can use your key to open Treasure Chests. Moreover, your tournament result can return or give you more UM than participation cost.
Battle also relates to this. By setting your heroes in the sequence, you can save your followers, and if you have high-level heroes, you can easily increase your ranking, and get more followers. Of course, more followers, higher multiplier, faster reaching the Cosmos Quest.
Summary
[
]
More UM - more Tournaments - More Prana Gems - Stronger Heroes - Higher Daily Quest - More and more UM.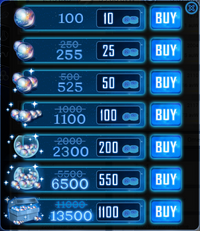 Trivia
[
]
The stragegy is inspired by Mindflyer, from their comment in the Kongregate Forums.
Patch History
[
]