There are several tools that related to
Cosmos Quest
features, mostly are used in
PvE
:
PvE Solver
Edit
This is the most popular tool used by players and it has a lot of versions programmed in many different languages. PvE Solver helps you in arranging monsters and heroes in PvE or Daily Quest, which the result always leads to victory. When the tool is started, it always asks you to input the enemy sequence from left to right and input the heroes that you owned, including their level.
In some of PvE Solver tools, it may ask you to input the maximum number of grids, where you can input monsters and your heroes. Despite having 6 grids are maximum which you clearly see in the game, the tool is not limited inputting number that greater than 6 while the rest are not.
In this article, we will introduce 2 most popular PvE Solver in the community:
Diceycle's Hero Calc
Edit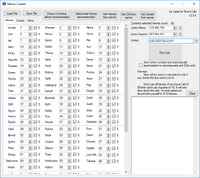 The most used and most recommended PvE Solver is Diceycle's Hero Calc with the support of the Latas' UI for automatic input and macro file creation. It has many features and functions:
C++ based Calcultor for solving PvE instances
Max Damage against Worldbosses can be determined
Heroes are implemented, levelable and abilities are fully functional
Hero Levels will be saved between executions
Malizia's Calc
Edit
The other version of the calc which functions similarly as Diceycle's. This used to be the fastest updated tool when the new patch comes out, usually 1 - 4 hours late, instead of 1 - 3 days like Diceycle's since it had been stopped updated since patch v2.8.1.0 which about 10 patches outdated behind.
Other Calcs
Edit
Other Tools
Edit
Lineup Simulator
Edit
Random Grid Generator
Edit
Community content is available under
CC-BY-SA
unless otherwise noted.