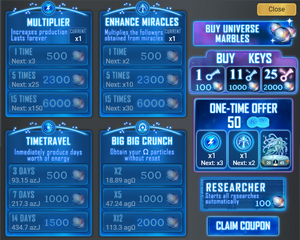 The shop is a place where you can buy premium upgrades. Some upgrades are permanent bonuses that persist through resets, while others are one-time boosts such as Time Travel.
There is a special offer called One-Time Offer which is known as a starter pack and is the only offer which uses Kreds to purchase. Claim Coupon is where you can presumably use a Playfab coupon here.
On the function bar, the Shop is highlighted as a gold tab.
Shop
One-Time Offer
One-Time Offer 1
One-Time Offer 2
One-Time Offer 3
One-Time Offer 4

Lady of Twilight

Energy Multiplier ×1


Enhance Miracle ×1

Tiny

Energy Multiplier ×2


Enhance Miracle ×2

Nebra

Energy Multiplier ×4


Enhance Miracle ×4

Bubbles

Energy Multiplier ×10


Enhance Miracle ×10

50
100
200
500
Multiplier
Enhance Miracles
Time Travel
Big Big Crunch
Increase production
Lasts forever
Multiplies the followers obtained from miracles
Immediately produce days worth of energy
Obtain your particles without reset
1 Time: 500
1 Time: 500 
3 Days: 500
×2: 500
5 Times: 2,300
5 Times: 2,300 
7 Days: 1,000
×5: 1,000 
15 Times: 6,000
15 Times: 6,000 
14 Days: 2,000
×12: 2,000 
Researcher
Keys
Starts all researches automatically
1 Key: 100
100
11 Keys: 1,000
25 Keys: 2,000
Heroes
Spyke
1,000
Aoyuki
2,000
GaiaByte
5,000
Weekly Offers

30 + 10 + 1 Silver Chest
1,000

45 + 10 + 1 Platinum Chest
100

90 + 20 + 3 Diamond Chest
250
Patch History
Edit
v2.9.3.0:

Increase Weekly chests rewards (Prana Gems x3).

v2.7.2.0:

Add purchase confirmation.

v2.7.0.0:

Add 3 new heroes (Spyke, Aoyuki, GaiaByte) which can be bought.

v2.3.0.0:

Two mores offers is added: Keys and One-Time Offer

v2.2.1.0:

New visual shop update.
The shop tab is switched with the Options tab on the function bar.
Add a new button called Claim Coupon.

v2.2.0.0:
v2.0.2.0

:

 
v1.1.0.0: