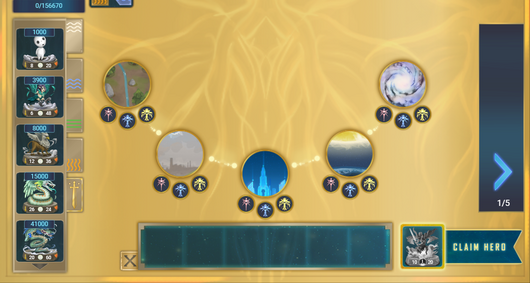 Each quest corresponds to each stage of evolution or ascension's background and contains 3 objectives:
You can obtain one story hero by completing every page of quest with all 3 objectives done.
This is a table about the solution of every quest and objective without heroes, which ONLY CONTAINS MONSTERS as the battle unit. There are plenty of solutions, but these are the cheapest to be chosen:
Patch History
Edit
v2.9.5.0:

Add 4 new PVE maps (17 - 20)

v2.7.6.0:

Add 5 new PVE maps (12 - 16)

v2.6.1.0:

Add 3 new PVE maps (9 - 11)

v2.5.1.0:

Add 3 new PVE maps (6 - 8)

v2.4.2.0:

Show enemy grid as a tooltip over Fight button.

v2.4.0.0:

Add 5 more quests: 21 - 25.

v2.3.1.0:
v2.2.1.0:

Change pve conditions for battle rewards. Now the objectives are to defeat the enemy squad with 6, 5 and 4 monsters in you grid.

v2.1.0.0:
Community content is available under
CC-BY-SA
unless otherwise noted.