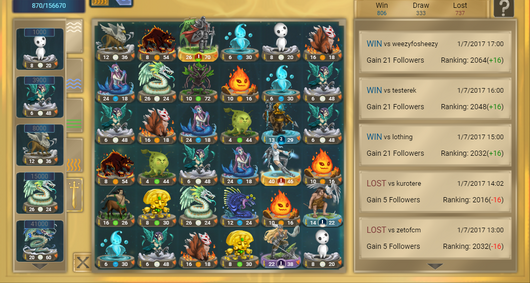 PvP is a feature added in v2.0 of Cosmos Quest (v1.9 for Beta Testers). It consists of arranging monsters or heroes with different elements in rows and making them fight when a fight between players is decided or when you initiate a fight. The server will arrange a fight for you once per hour. You may also start a fight manually once per hour by choosing a player in the board at right hand side in Ranking section. The fighting result will be displayed at right side of the monster board. You can replay the fight by clicking the result.
You will always gain followers, regardless of a fight's outcome. How many you gain depends on the outcome, however:
The question mark explains how it functions.
Winning increases ranking based on your opponent's ranking, while losing decreases it.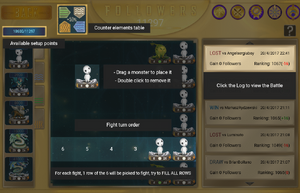 See Also
[
]
Links
[
]