| | |
| --- | --- |
| | This page is a work in progress, was editing it and left halfway through so please do not edit it until it is marked as complete before you contact the user or enough time as passed for the page to be considered abandoned. Use the page for any relevant input you might have please. |
Most Ascended Heroes are upgraded from maxed legendary heroes. There are currently 18 ascended heroes (12 chest ascendeds, 4 quest ascendeds and 2 non-chest ascendeds). Each has its own animation, the same as the developer heroes. Their appearances are similar to theirs pre-ascended and a new rarity stand.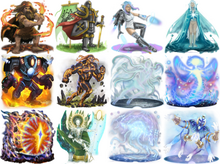 For each level, the ascended hero will receive 12 points distributed to their HP and Attack proportionally.
To ascend a maxed legendary hero, you have to spend 100 AS. Leveling an ascended hero will cost

Ascension Spheres / Cosmic Coins(quest ascended) instead of

Prana Gems, starting with 1 and increasing by 1 per level (e.g: 1 → 2: 1 AS, 34 → 35: 34 AS). The cost will continue increase to 98, make up 4,851 AS or CC of the total.
NOTE: Ascending maxed chest heroes doesn't replace pre-ascended with new ascended heroes, which mean you can have the two same heroes but diffirent rarity (one ascended, other one legendary)
Some ascended heroes have the same skills as their pre-ascended version, while others have new skills. Skill effects stack if two or more effects are in the same sequence. Skills are only active while your hero is alive. See more in Heroes/Skills.
Ascended Heroes
Edit
Animation
Edit

Each hero has a significant design change:

Alpha: His clothes are darker and now wears limb band.
Athos: He gains gold armor and weapons. His flag is a darker shade.
Rei: Her energy and hair is of a darker color and has a serious smile. Her robotic legs have more detail.
Auri: Her hood is replaced with a crown and now has wings.
TR0N1X: His energy is blue and has an open chest
Geum: His lines are brighter and has "hair."
Geror: He shines brighter and has bigger aura.
Pontus: His stars are brighter.
Atzar: He now has a "pupil" and gained purple hues.
Rigr: His rings now "shine" and has a different face shape. His throne also wears a band.
Dagda: He now has shining lines over his body.
Bavah: His crown and gauntlets are now shining, and his light and dark aspects are more contrasted.

Statistically, Geum takes the earliest to outclass his max-level pre-ascended counterpart, at level 38. Other heroes outclass theirs at levels 39-41
The heroes original in the Ascended class seem be based on different Dimensions:
Patch History
Edit
v3.0.4.0:

Bubbles now provides a 0.50% Area of Effect reduction per level and has received a base stat adjustment.

v3.0.0.0:

Add Ascended Bavah.
Add Master Lee.

v2.9.7.0:
v2.9.4.0:

Add Ascended Rigr.
Fixed Ascended Atzar.

v2.9.2.0:

Add 3 heroes: Ascended Pontus, Ascended Atzar and Bubbles.

v2.9.0.0:

Add first 7 chest ascended heroes: Ascended Alpha, Ascended Athos, Ascended Rei, Ascended Auri, Ascended TR0N1X, Ascended Geum and Ascended Geror.