Events in Cosmos Quest usually occurs on major holidays or festivals such as Halloween, Christmas, etc. Player will have special and exclusive rewards which they can't receive on normal days.
The current known list of events, in general:
July 4th
Halloween: October 31st
Christmas: December 25th
Anniversary: February 17th
AnniversaryEdit
Cosmos Quest's First Anniversary
The major activity of the Anniversary event is clicking the Piñata. All players are collectively working towards unlocking rewards through clicking. To get the reward, you have to click at least once at the Piñata, so the text underneath the UI will appear as "You are already participating in this event" which means that you're allowed to get the milestone rewards. The milestone rewards based on total clicks.

Note: There is a cap of 1 click per player per second that is registered, this is done in a block of 300 seconds. Meaning you can click 300 times, then go AFK for the next 300 seconds. Click 300 times, rinse and repeat.
Rewards
1,000,000 Clicks
5,000,000 Clicks
10,000,000 Clicks
15,000,000 Clicks
Universe Marbles
×100
Keys

×5
Prana Gems

×20
Universe Marbles
×300
20,000,000 Clicks
25,000,000 Clicks
30,000,000 Clicks
40,000,000 Clicks
Keys

×10
Universe Marbles
×600
Keys

×15
Prana Gems

×80
The event lasts only one day, from 23:59 GMT February 16 to 23:59 GMT February 17.
ChristmasEdit
Christmas

Candy Sticks will appear on a random location of the game screen and you simply have to click to collect them, then wait for more Resources to appear. Candy Sticks are also obtained from buying them in the Candy Shop, which can be found in the Christmas Event interface.


Note: The daily cap for the ability to collect Candy Sticks is 110 (not including rewards from gifts)
Advent Calender
23rd December, 2017
24th December, 2017
25th December, 2017
26th December, 2017
Candy Sticks

x20
Prana Gems

x5
Special Christmas

Rare Christmas Hero
Universe Marbles

x250
27th December, 2017
28th December, 2017
29th December, 2017
30th December, 2017
Candy Sticks

x20
Prana Gems

x5
Universe Marbles

x250
Candy Sticks

x20
31st December, 2017
1st January, 2018
2nd January, 2018
3rd January, 2018
Prana Gems

x5
Universe Marbles

x500
Candy Sticks

x20
Prana Gems

x5
Gift Machine
To open a gift, you have to spend 20

. The reward of the gift as seen as below in the table.
Candy Shop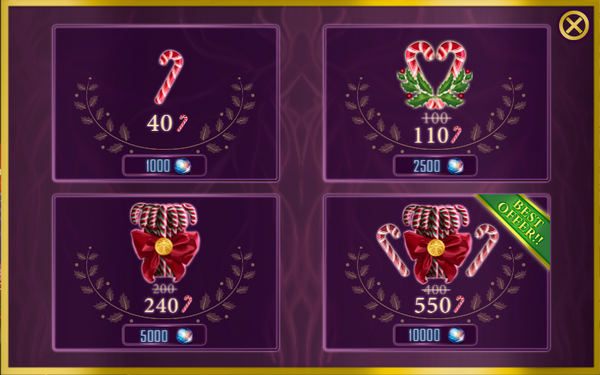 Community content is available under
CC-BY-SA
unless otherwise noted.